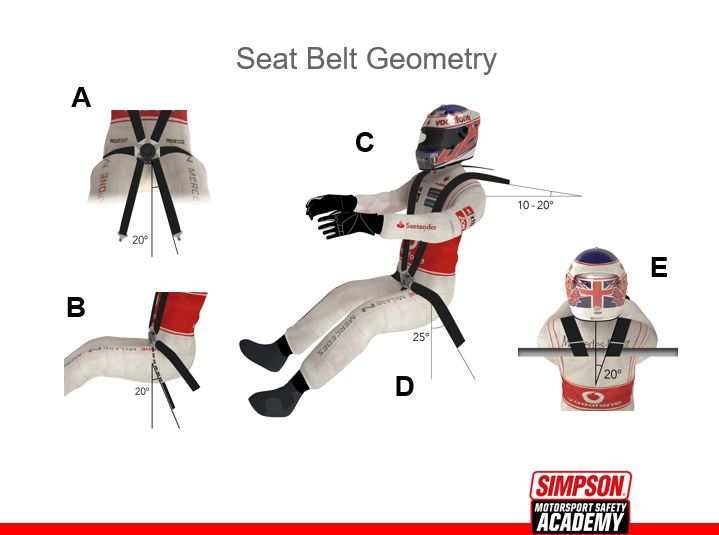 A. Crotch belt must be split at about 20 degrees to create the stabilization of the pelvis bone (hip area).
B. Crotch belt routed through seat vertical or slightly backwards.
Try to avoid that the belt pivot on edge of hole through the seat.
C. Shoulder belts must be angled 10 to max 20 degrees down behind the neck.
Belts should never pivot or touch the edge of hole through seat.
D. Lap belt is where we want to remove as much energy as possible in a crash.
The pelvis (hip area) is the strongest bone in the body.
Therefore, it is paramount the lap belt is mounted with correct geometry and height so it can work properly.
Install backwards 20-45 degrees from vertical line, make sure lap belt can hook and secure the pelvis bone.
The harness lock-mechanism should be placed as low as possible to avoid submarining and damaged to stomach and lower back.
E. Shoulder belts should be mounted as close as possible behind seat back (200-500mm).
If HANS is used it can be wisely to angle the belts 20 degrees towards center to avoid belts sliding off the HANS.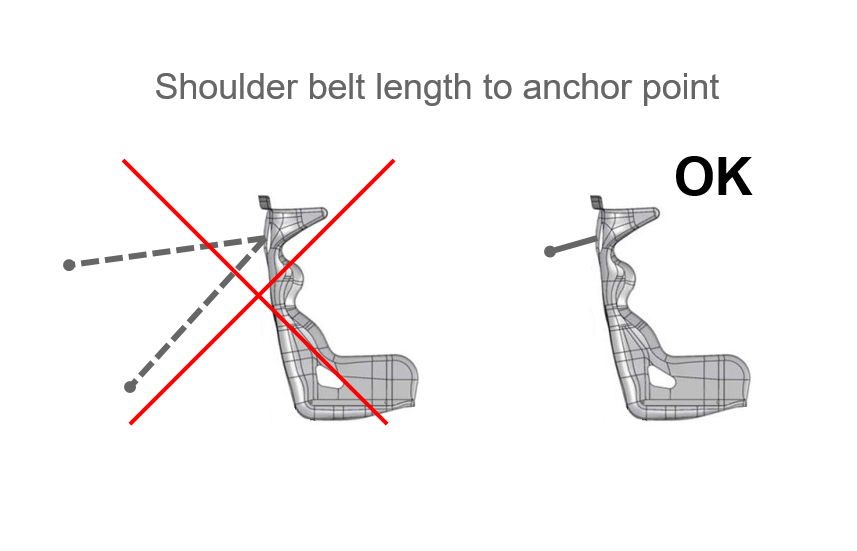 Don't use long shoulder belts or angle them down to floor. A to long shoulder belt will not keep the seat stable and seat will move in car during a crash. A seatbelt mounted to steep downwards behind the seat might cause spine compression. Always try to keep shoulder belts short and at an angle that is 10-20 degrees down behind you seat back.