*Free Shipping WorldWide*

The new and improvedSimpson Hybrid S is a FIA 8858-2010 Approved Head and Neck Restraint that protects during front and offset impacts.
The Hybrid S have the the lowest profile in the industry, this device will move with you for quick entry and exit from the race car. The strap design offers excellent maneuverability. The device sits on your back/shoulders, not over the chest or collarbone as with the old HANS-type device. The design also give a better contact with the car and keeps the driver/co-driver more fixed to the seat.
The Hybrid S ships Race Ready with Quick Disconnect Helmet Anchors if ordered with Quick Release tethers.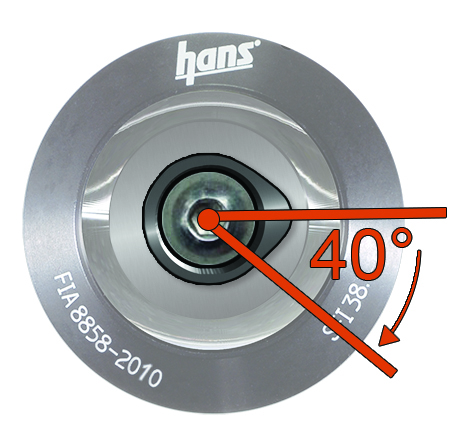 If used with HANS tethers the anchors should be adjusted down 40 degrees as shown in the picture.
- High quality carbon fiber construction
- Unrivaled angular impact protection and device stability
- Low profile. No high back to hook on the bars on exit
- Multiple load paths to dissipate head loads
- Buckle attachment in front. No bulky straps underneath
- HANS-tethers are optional.
If your helmet is currently fitted for a HANS Device you can easily upgrade to a Simpson Head and Neck Restraint/Simpson hardware corresponds to the same location.

Weight 1085 gram complete.